Saira Jabeen, the first woman from the Kalash valley of the Chitral district in the north of Pakistan, has become a part of the women's T20 tournament.
The beautiful Kalash Valley of Chitral is famous for its natural scenery and ancient culture. The tribe has a population of about 4,000 and the literacy rate is increasing. Kalash women are advancing in the field of education as well as in the field of sports.
Saira Jabeen, a member of the Kalash tribe who took part in the women's T20 tournament from the Kalash Valley. She says that she used to play cricket with the village boys as there was no ground.
Who is Saira Jabeen?
Saira Jabeen belongs to Rambur village in Kalash Valley. A girl born in a small village started dreaming big in childhood.
He had a passion to become a cricketer since his childhood but faced difficulties due to a lack of sports facilities.
Had to be a boy for cricket:
Talking to Urdu News, Saira said that there were no playgrounds for girls in the village, so she used to wear a cap to hide her hair and play cricket with other youths of the village wearing boys' clothes.
"When I was in the eighth standard, I went to Lahore so that I could join the cricket academy along with my studies, but due to my young age, I had to come back and studied in a college in Chitral until the twelfth standard."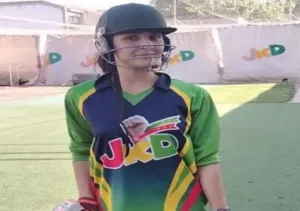 Source: Urdu News
Saira Jabeen said, "Father wanted to become a doctor, but I was obsessed with becoming a world-class cricketer. For this purpose, I moved to Peshawar for further education, where I got the opportunity to fulfill my passion along with knowledge."
Saira had to leave the village for the Cricket Academy:
He said that in 2020, I joined Peshawar University and at the same time started going to JKD Cricket Academy, I faced many problems during training because I was the only girl in the club.
After two semesters at Peshawar University, I migrated to Lahore and continued to practice with the boys at the coaching academy there.
Saira Jabeen Passion forced him to migrate to Punjab:
According to Saira, the coach of Jamia Punjab Irfan Ullah selected him after seeing his performance during the trial at the academy in Lahore. In the year 2021 and got admission to the university on sports quota.
She said that 'I used to bat in the middle order since childhood. But under the coaching of the coach, my bowling ability also started to emerge.'
Also Read: PCB Announces PSL Like Women's Leagues
Saira Jabeen showed the essence of her abilities in many matches, in a brief period. She showed performance as the vice-captain against Faisalabad. she was also declared the best batsman and bowler in inter-university competitions.
In July this year, the Pakistan Cricket Board organized a camp for 130 women players from across the country, in which 30 girls were finalized. She was also among the 30 lucky players.
Saira Selected For Women T20 Tournament:
Saira Jabeen told Urdu News that the teams have been formed for the women's T20 tournament in November 2022, in which she has been included in the 'Invincible Squad'.
Source: Urdu News
He further said that 'God willing, I will continue my demanding work. I have traveled long and hard for my passion. I think that if you believe in hard work and dedication, the dream can be realized.
Saira Jabeen said that there is talent among women in Chitral and especially in Kalash Valley. But there is a lack of facilities due to which girls do not come forward.
The National Women's T20 tournament matches are going on in Lahore from November 26, which include three teams.