Some Minor Issues With Major League Cricket: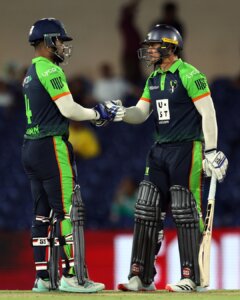 Major League Cricket was announced in November last year to promote cricket in the United States and North America. League has six franchises. Most of them are owned by IPL team owners and also have identical names. Unlike all other leagues which are governed by their respective boards US cricket board has no involvement in the league. League has a roster of over 120 players, some notable names include Adam Zampa, Aaron Finch from Australia, Martian Guptil, and Locke Ferguson From New Zealand. Haris Rauf, Shadab Khan, and Imad Wasim From Pakistan. Some other significant names include Jason ROY, Kerion Polad, Nicholas Poran, Trent Bolt, and Rashid Khan. The tournament will be played in round robin format with the top four teams proceeding to playoffs
Major league cricket which starts tomorrow is one of the most awaited cricket tournaments this year as cricket comes to Uncle Sam's country. There is a buzz all around the cricket community related to this. But it won't be an easy journey for MLC. There are some problems that this novice league will face. Let's discuss them.
Establishing Its Place in US Sports Culture:
MLC is taking place in the US which is for sure not known for cricket. Which has already established sports culture with the NFL, NBA, and MLB these leagues and their franchises have been there for a long time and have a loyal fan base. MLC will struggle to find its place among these giants so stakeholders will have to work hard to earn their place in the country's sports culture. The only potential audience MLC has right now are immigrants from countries where cricket is popular. If they want to stay in business they would have to find a new audience.
Infrastructure Problems:
Although the US is one of the countries with the best infrastructure, when it comes to cricket unfortunately the story is different as the country lacks cricket-related infrastructure. Due to this very reason, ICC moved next year's T20 world cup from the USA and West Indies to England. As the US government and cricket board has no involvement in this so league's owners have to solve this problem by themselves.
Time Zone Issues:
Most cricket tournaments are organized so that it is convenient for South Asian audiences to watch this might be bad for the local audience but from broadcasters' perspective most of the viewership comes from this region so for a tournament to be feasible it should be easy for fans in this region to watch games. But MLC took a bold decision and they decided to have the game at a time that would be comfortable for local fans but they will lose their South Asian audience. Time will tell how broadcasters will react to this. As a matter of fact, major revenue comes from broadcasting rights so MLC has taken a risk.
As the saying goes, every problem comes with its solution. So we will have to see how things will go for MLC. So we will have to see how things will go for MLC. This is the first season so far everyone working in League has to strive hard for improvement every season.